North Marion Finishes As Class 4A State Runners Up
Photo Gallery
Box Score
The most successful baseball team in the history of Marion County saw its season end one win shy of the ultimate reward. But although the North Marion Colts were on the wrong end of an 8-4 decision in Tuesday night's Class 4A state championship at Hammond Stadium in Fort Myers, the bittersweet loss comes at the end of a season that set a new standard for North Marion baseball.
The Colts (21-9) played in the state title game for the first time in school history, and are also the first team from the entire county to ever reach that grand stage. They surpassed all expectations by playing great team baseball and believing in the impossible, and now that dream of reaching the state finals is no longer just a dream but a reality that they know they can accomplish again.
"We're the first team ever in Marion County to come to the state finals, and nobody thought we'd be here," senior Wyatt Campbell said. "So it feels really good to do it with these guys and to prove everybody wrong, and to help the next kids coming up. There were ten or twelve young kids here watching us who are from our area, so we set a good example for them to lead them on the right path."
What those future Colts witnessed was a team that battled through two tough opponents to give themselves a chance t state glory right down to the final out. Seldom does a team come to the state tournament for the first team and even reach the championship game, but this special group of coaches and players have made the impossible possible all season long.
"It's had to soak in what actually happened, but I wouldn't want to do it with anybody else," Campbell said. "There isn't anybody else I'd take to battle with me. We hit a roadblock about midway through the season, but we just said that we are going to do what we need to do. We are not the most talented team but we definitely have the most heart of any team in the state. I believe that, so it's fun playing baseball with guys who you know are going to have your back no matter what."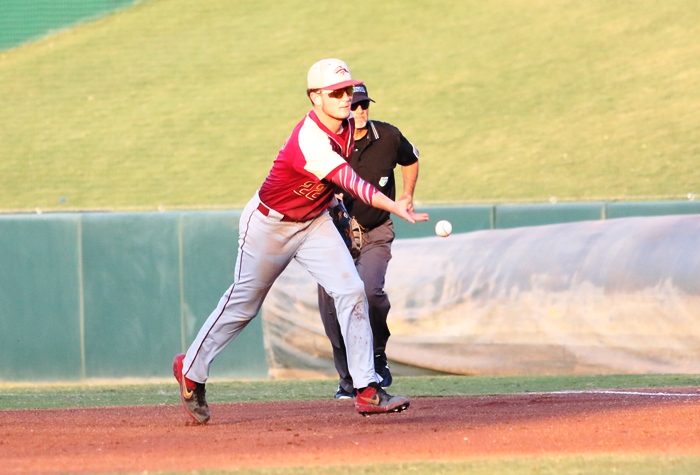 The tide turned to the Eagles in the bottom of the fifth. Yoel Tejeda crushed a double deep to right-center field, and Joshua Steidel followed with a gritty, seven-pitch at bat that resulted in a walk. Tyler Richman dropped down an excellent bunt base hit to third base that filled the bags. De Castro then moved them up a station with an RBI single to shallow left field that tied the game at four runs apiece.
Riley Luft gave North Broward Prep its first lead by drawing a four-pitch, RBI walk. Dylan Runsdorf then sent a bouncer that got past third base to drive in two runs, and the Eagles got another runner across the plate after getting caught in a rundown but avoiding the tag until after the run was scored.
"There were a lot of fastballs coming in and the pitchers were aggressive. So I was looking for that early," De Castro said. "He threw it in the first at bat and then again in the second one, and I kid of rolled over on it. So the third at bat I saw a fastball again and I tried to stay on it. I knew they were going to come inside."
The Colts went right to work applying the pressure in the top of the first inning. Gavin Miller led off with a walk, advanced to second on an errant pick-off attempt and then swiped third base. Elias Garcia and Jacob Walton both also walked to load the bases with one out. Wyatt Campbell then got the scoring started by lifting a fly ball deep to right field and off the wall for a two-RBI double that put North Marion right into the driver's seat.
Cooper Jones drew a walk to reload the bases and keep the pressure on, but the Eagles responded by turning a 6-4-3 double play that got them out of the inning.
The North Broward Prep offense went to work itself with its first swings. Tejeda singled with two outs and Steidl followed with a walk. But Colts starter Hunter Jones answered by recording a swinging strikeout that kept the Eagles at bay.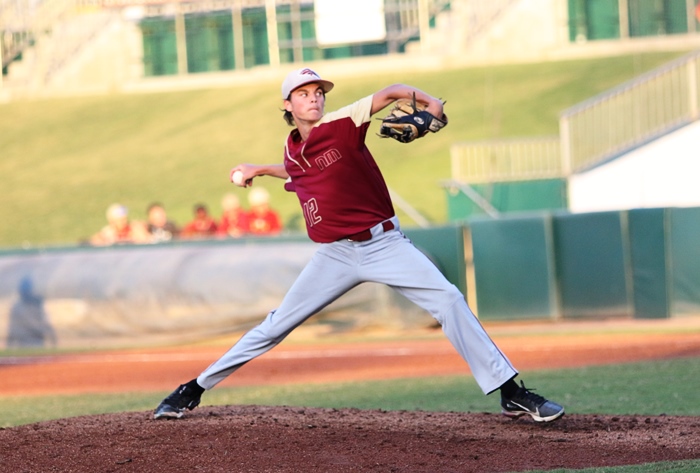 North Marion got going again in the second, as lead-off hitter Connor Burks was hit by a pitch and then advanced into scoring position on a balk call to keep the pressure on. The Eagles dug in and retired the next three batters in order to strand the runner.
North Broward carried that momentum back to the plate to get on the scoreboard in the bottom of the second inning. Gian De Castro jumped on the first offering and smoked it to right field for a lead-off triple and Dylan Runsdorf got a ball on the ground for an RBI ground out that cut the deficit in half.
"They were as calm as could be," North Broward Prep Manager Brian Campbell said. "They never thought for a second that they were out of it, not for one second. They kept coming into the dugout and telling me that they've got this. Not one second did they think that they were going to lose that game. You know what? That confidence that they had, it is contagious. It rubs off on us as coaches too. They never thought for a second that it was over, and that makes me so proud of those kids. They're resilient. That is going to take them a long ways in life, not just in baseball."
But the Colts swung right back and added two more runs in the third. Walton singled with one out and Campbell was next with a shot deep to center field that got past the diving fielder and rolled to the wall for an RBI triple. Campbell then came home off a wild pitch to make it 4-1.
No lead was safe, as the Eagles got right back at it with their next swings. Tejeda got it started with a two-out single, Steidl was hit by a pitch and Tyler Richman got the runners moving with a liner to shallow center for an RBI single. De Castro then got a ball on the ground to the right and reached on a throwing error that brought another run across the plate.