Real Life Christian Falls To Miami Christian In 2A State Semifinal
Box Score
Marcos Alvero was the only guy who didn't know the ball was leaving the yard. Miami Christan's senior third baseman did what all great ball players do when they hit the ball well – he put his head down and he ran as fast as he could around the bases. Somewhere along the way he found out he'd just hit a home run that eventually lifted his team to victory, but that did not slow his sprint until he reached the plate.
Alvero's solo shot in the second inning was the difference, as Miami Christian held off the Real Life Christian Raptors with a 3-2 victory in Wednesday night's 2A state semifinal at Hammond Stadium in Fort Myers.
Real Life Christian entered the state tournament as a bit of enigma, having reached the state Final Four in only its first eligible season of play in the state series. Despite a young team with only 10 active members dressed for Wednesday's semifinal, the Raptors proved to be a gritty and fearless bunch that proved every bit why they belonged in the big dance.
"We are going to come in our time and in God's time," Raptors manager Mike Koronka said. "We want everybody to know who we are and love us for what we are. This is a great team that if you need something done these guys will bend their backs and it is not about baseball but a journey. We started on Day One taking this journey all the way through and went against one of the best ball clubs in the state. We held them to four hits and we had eight hits but couldn't do it. We're okay with that. I know a lot of people were watching in Clermont, and be proud. I am."
Miami Christian starter Jason Marono was a force on the mound to earn the victory, holding the Raptors to four hits and two runs. The right-hander scattered eight hits and issued two walks, and had seven strikeouts. Marono carried the club into the seventh inning, before the pitch-count limit forced his exit after he recorded the first out.
Jason Garcia came on in relief to finish things off, striking out the last two batters for his first save since March 27th, 2018 against Grace Christian.
"We came in thinking it might be a little like last year and we were going to handle teams pretty easy, but they can hit and they can play," Marono said. "They are young though; they are going to be really good in a couple of years."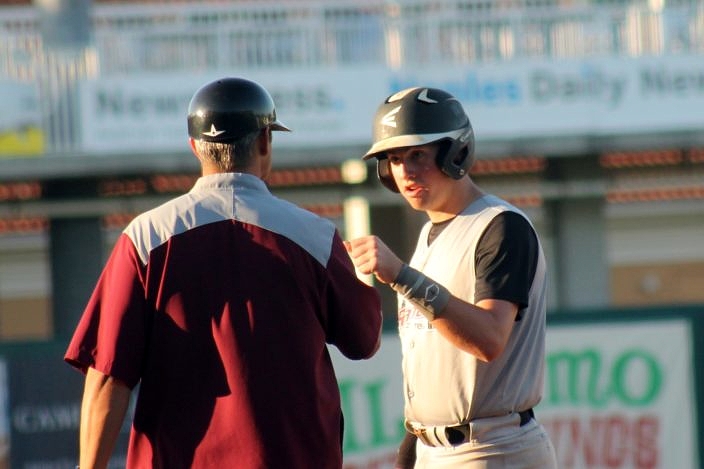 The Raptors drew first blood and took a 1-0 lead with their first swings in the top of the first inning. Joel Haskin crushed a shot deep to center field, but was out on appeal after he failed to step on first base. Walks to Ian Thornton and Gabe Schlabach kept the inning going, and a wild pitch advanced both runners. Korbin Kurt then sent a slow roller to the shortstop for an RBI ground out.
Miami Christian immediately answered back in the bottom of the first. Christian Muniz and Adrian Rodriguez both walked and Fernando Fernandez lined an RBI double to center that tied the game back up. Gabriel Vasquez followed with an RBI ground out that pushed Rodriguez across the plate for the lead. An inning later the Victors added to that lead, when Alvero jumped on the first pitch he saw and crushed a solo home run 375 feet over the left field fence.
"We woke up the bats a little bit in the first inning and put two on the board, and we leaned the whole way on our pitching and defense," Miami Christian manager Chris Cuadra said. "That's usually what we do, but it was a tough game. It was back-and-forth all game long. We got battle-tested and the boys came through."
Real Life Christian responded back in the third. Andrew Clymer lined a single to center and Joel Haskins followed with a liner to left, and both runners advanced a base as Thornton grounded out to first base. Schlabach then crushed a shot deep to left for an RBI single that pulled the Raptors within a run. Even despite being unable to scratch across that final crucial run, the team was satisfied in its play and effort.
"We only had nine undeveloped kids to start the year, and our big 6'5″ guy, his knee was bad. He was playing but we were playing sometimes with only eight people on the field," Koronka said. "But after 25 years of coaching baseball I put a hitting process together, and you saw the difference. These are eight-graders hitting off a kid today who was throwing 96 miles per hour. My hat's off to our pitcher, the only senior we've got. He kept a team that powerful off-balance. I just have to thank my coaches; I could not have done this without them. We will overcome, but they understand that this is the process."