Chiefland Advances Back To 1A State Championship
The Chiefland Indians are headed back to the state championship.
Indians manager Kyle Parnell admits that it has been a rollercoaster ride this season, but the team has been playing its best baseball down the stretch. That certainly was the case in Wednesday's 1A state semifinal, as Chiefland rode a big offensive day to a 7-2 victory over the Bozeman Bucks.
"We're excited to be here. These guys went and played hard today against a good ball team and we're proud to get out of here with a win," Parnell said. "We knew it was going to be a battle. Kelby Osteen went out and battled as a pitcher, and he struggled a little bit at times with his control but we made enough plays behind him. He pitched well and our bats came to life. We had some key hits with some guys on and were able to extend our lead a little bit."
The Indians will now take on the Williston Red Devils on Thursday afternoon, in the state championship at Hammond Stadium in Fort Myers. Chiefland is seeking its first state title, after falling in the championship game in the 2016 season. The Red Devils won back-to-back titles in 2014 and 2015.
A pair of runs in the bottom of the second inning broke a tie game and put the Indians back in the lead for good. Kelby Osteen was hit by a pitch to start the frame, and courtesy-runner Kent Sloan replaced him on the bases. Aiden Horne dropped down a great sacrifice bunt that advanced the runner and Payne Parnell followed with a base hit to left field. Luke Reidy then came through with a base hit to center field that drove in both base runners for a 3-1 advantage.
Bozeman struck right away to take a 1-0 lead with its first swings in the opening frame. Chad McCann walked with two outs and Cody Herron was hit by a pitch to move him into scoring position. Zack Foster then delivered an RBI single to center field.
The Indians answered back to even things back up in the bottom of the second. Luke Reidy reached on an error and moved to second base thanks to a sacrifice bunt from Briar Keene. Wyatt Hammond followed with a double to center field that easily allowed Reidy to come home.
"I always just try to stay relaxed and do what I can for the team," Reidy said. "I just try to put the ball in play; you're not going to get anything done by striking out."
After taking the lead, Chiefland continued to add on and increase its advantage by scoring in each of the next three innings. Hammond singled, stole a base and scored on an error in the fourth, Keegan McLelland had an RBI double and courtesy-runner Connor Whistler scored for him thanks to an RBI single from Will Sumner in the fifth. Reidy then added an RBI double that drove in Parnell in the sixth.
"Like Coach always says, you always want to take advantage of what other teams give you," Hammond said. "By stealing bases you make them have to make a play, and if they mess up with a bad throw you can get another base or a run."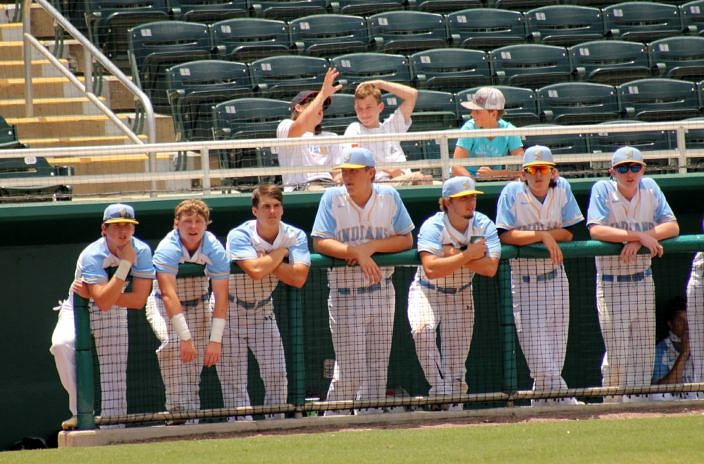 Chiefland has been swinging the bats well during this playoff run, and that trend continued on Wednesday. The Indians had eight hits total and nearly every starter reached base.
"The first two games in the playoffs before we came here I think we had 30 hits, so lately we've been turning on the bats and hitting the ball really well," Hammond said. "We're just really focused on what the goal is, and we've got a lot of seniors and we know that every game can be the last. Here we are going to play in the championship."
That title game will also feature a match-up between two Levy County rivals.
"Obviously we've got a tough opponent tomorrow with Williston, and we play them every year," Parnell said. "Often times we're in the same district, so we've had a lot of big games over the years. We look forward to playing those games; they are a good ball team. We got hot here at the end of the year and hopefully we've got a little bit left in the tank for tomorrow."