Trinity Christian Wins Shootout To Return To State Finals
Photo Gallery
When the game was over and the victory in the books, Trinity Christian manager Bryan Maples was at a loss for words at the wild battle his Eagles had just emerged victorious from. A fly ball to right field sealed the game as Trinity Christian held on with a 9-7 victory over Seacrest Country Day, in a 2A state semifinal at Hammond Stadium in Fort Myers. The Eagles will take on Trinity Christian Lake Worth in Thursday night's 2A state championship, also at Hammond Stadium.
With things tied up heading into the top of the seventh, the Eagles (21-8) erupted for four runs that made up the difference. Colin Curtis walked and William Rosado was hit by a pitch, and a throwing error allowed Curtis to cross home with the go-ahead run. AJ Andrews was intentionally walked and Amorie Archibald came in to run for Rosado, and Gabriel Mercedes delivered a liner over the outfielder's head for a two-RBI triple, before also scoring on an error.
The final result came as an even greater reward after the team found itself in a big hole early on.
"Of course, starting out with a four-run deficit is tough to come back from, especially against a team of their caliber, because they are a really good baseball team," Maples said. "These guys have surprised me all year long. They just fight. We have had the pleasure of being down here nine times over the past ten years, and the day that it doesn't get me will be the day that I walk away."
The Stingrays (21-8) grabbed the lead with their first swings in the bottom of the first for a 3-0 advantage. But Eagles starter Trenton Brickhouse was determined to answer right back, as he battled through 12 pitches for a hard-earned walk. However, Seacrest answered right back when first baseman Matt Hurley scooped up a roller, stepped on second and fired to shortstop Lenny Pieterzs, who applied the tag for the double play.
Seacrest then tacked on another run in the second before the Eagles got the bats going to take the lead in the fifth. Matthew Frasco walked and Colson Kicklighter singled to center field and then gave way to courtesy-runner Colt Hickson. A passed ball advanced both runners into scoring position, and Edel Morales lined an RBI single to left to put the Eagles on the scoreboard.
Trinity poured it on from there to go in front. Colin Curtis plated another with a fielder's choice RBI, Danny Nugent walked and William Rosado delivered next with a two-RBI double. Nugent then tallied the go-ahead run off an error.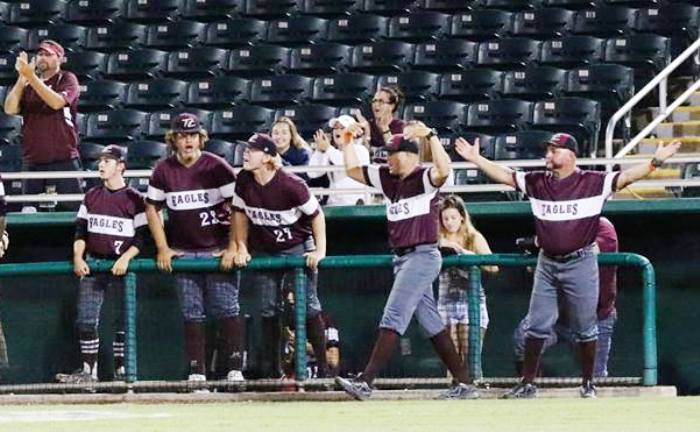 The Stingrays answered back to even things up again in the bottom of the sixth. Meyer singled to center and was replaced on the bases by Kyle Kruk, who moved into scoring position on a passed ball. Matt DiNorcia came through with a grounder through the right side and Kruk raced around third and slid safely across the plate ahead of the high throw to make it a 5-5 ball game.
After surrendering the lead in the seventh, Seacrest refused to go down quietly and answered back with their final swings to keep hope alive. Andrew Miller and Joseph DiNorcia sandwiched walks around a base hit by Will Cialone to load the bases, where Luca Meyer connected for an RBI single and Cialone scored on a passed ball before the Eagles secured the final out.
That final out came with senior Colin Curtis on the hill, after Maples took Brickhouse out of the game with two outs in the seventh. Although Seacrest made that final out tough to get, the chance for Brickhouse to leave the field while his teammates, coaches and fans saluted him one last time was a moment that could not be passed up on.
"Coming into this year we knew that we were going to be slim on the pitching, and he's more than done his part for this team and this program. There couldn't be a better way for him to finish off his career these last four years of high school," Maples said.
Brickhouse had to fight as hard for this victory as for any in his career. The Stingrays connected for nine hits off of him, but he did not walk anyone and recorded five strikeouts.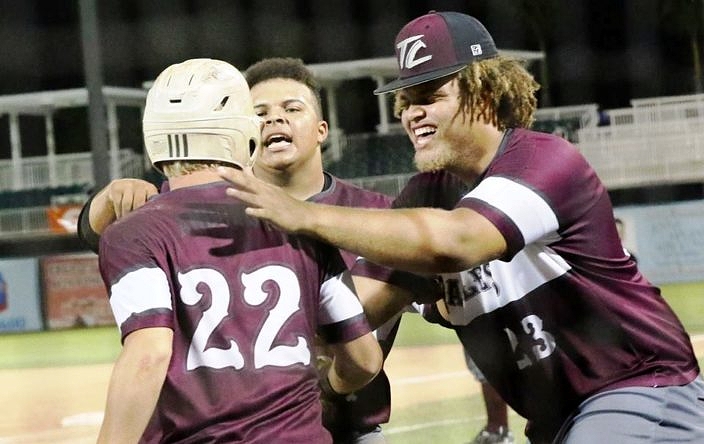 "Man, it was a struggle at the beginning and I was a little nervous knowing I was going out there for the last time," Brickhouse admitted. "It was the last time I pitched for this team and I got a little emotional before the game thinking about it. It's been a ride this whole game going through the down at the beginning and then getting the momentum in the fourth inning was just insane. I'm so proud of the guys; they fought so hard the entire game."
Although still focused and concerned on getting that final out of the night, Brickhouse had to fight back some tears of appreciation at having the team give him that last tribute.
"I could not have been blessed any more than to come to this school," Brickhouse said. "This is my first time; in the four years we made it to the semifinal every time but we came up a little short. This year all the seniors wanted it more than we ever did. It was clear because we fought back and took the lead and it was just incredible."